Founded in 1991, the Friends of Long Hunter State Park was the second non-profit organization created in Tennessee to assist state parks.  Its mission is to support, improve, protect and preserve the character of Long Hunter State Park.
With an ever increasing need for safe recreational facilities, environmental education and open spaces - and with limited state funding and an expanding metropolitan area - the Friends of Long Hunter have provided support through financial contribution and member action.
As a park patron, you can see a wild turkey cross your path; watch white-tailed deer graze in the forest; admire rare and endangered wildflowers; paddle scenic Couchville Lake; seek shade under a towering oak; gaze at a stalking Great Blue Heron; have a picnic at the water's edge; and enjoy a beautiful sunset over Percy Priest Lake.
By becoming a member of the Friends of Long Hunter, you will be preserving these experiences for future generations.
The Friends of Long Hunter invite you to become a member.
Leadership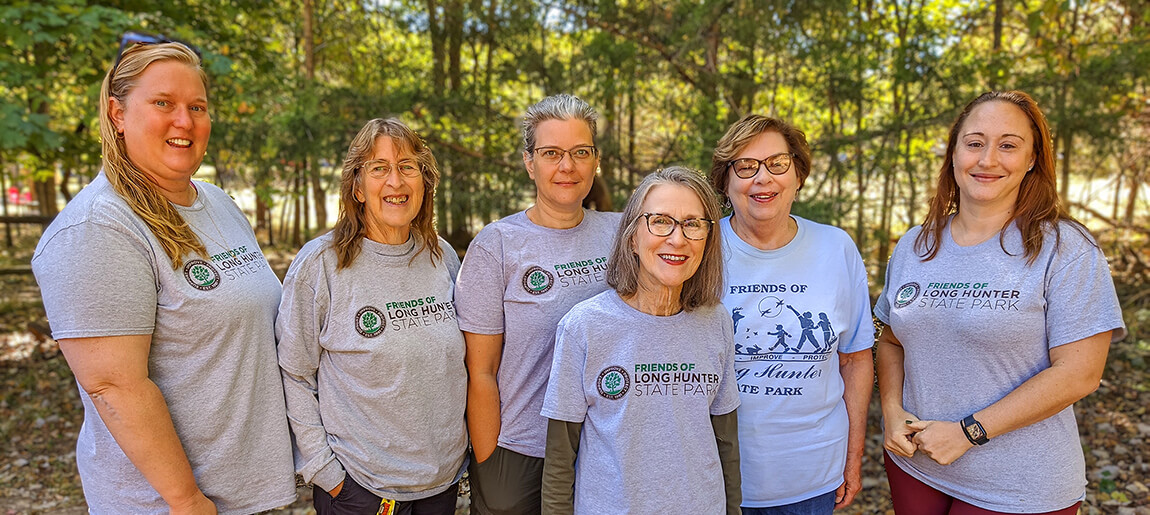 Historian - Amy Fiscor

President - Bonnie Shapbell

Secretary - Jennifer VanVlack

Vice President - Jan Hamock

Co-Treasurer - Vivian Wynn & Christina Luettich
Projects
The Friends of Long Hunter State Park support the following projects:
The award-winning Nature Circle program for pre-school children
Creation of the Couchville Lake Arboretum, the first state-certified arboretum in Tennessee State Parks
Outreach programs for senior citizens
Fishing for Kids/John Stuart Rocking and Reeling Club event
Relocating the Sherrod Bryant Tennessee Historical Marker into Bryant Grove Recreation Area
Creation of "The Flora & Fauna of Long Hunter" ceramic plate collection
Helping with the Deer Trail prairie restoration
Organizing volunteer cleanup days
Purchasing a variety of items for the park, including new swings for the playground, security cameras, birdhouses, computer equipment, tools, and a historic "Long Hunter" rifle
Nature photography seminars & photo contests
Organizing such popular events as Dancing in the Park, Trivia Night at the Park, Long Hunter Fossil Hunt, the Earth Day Festival, Sellars Farm Archaeological Tour, Movie Night at the Park, Campfire Night at the Park, and the annual Long Hunter Mega-Hike.
Monthly trail maintenance and clean-up workdays help to preserve the aesthetic beauty of the trails and lakeshores within the park while ensuring safe and easy access through backcountry areas.
Continuous efforts to enhance the native wildflower gardens at the park office including plant additions, updating signage and maintenance.
Monitoring and maintaining the numerous bluebird boxes and purple martin houses that help provide a nesting habitat for these colorful park inhabitants.
By sponsoring special events at the park, the Friends members provide much needed volunteer personnel and a fun, interactive social atmosphere.