The purpose of Friends of Long Hunter State Park is to help protect and improve the park environment for those who use it; and to support the park staff in its preservation and educational efforts.
We encourage you to join us in our efforts to assist Long Hunter State Park by becoming a member of our organization.
The support given through Yearly Membership Dues, Sponsors, and donations assist in many worthy causes. Your contributions are an investment in the future of Long Hunter State Park.
News
COVID-19 Updates
When considering a visit, Tennessee State Parks encourages the following:
Stay at home if you are sick or do not feel well.
Maintain at least six feet of distance between you and other visitors.
Visit parks that are only a short distance from your home.
Consider visiting earlier in the day so you can adjust plans if a park is full. Tennessee State Parks may limit access to certain parks or areas if capacity is reached.
Plan ahead. Many Tennessee State Parks buildings will be closed. Plan to bring your own snacks, water and hand sanitizer.
Prepare for limited or no bathroom access. Some restrooms remain open, but many will not.
Consider bringing a mask and wearing it when around other people.
Carry your trash with you or dispose of it in the appropriate containers to help keep our cleaning staff safe and our parks litter-free.
Overcrowding may cause entire parks or portions of parks to close.
Always check the Tennessee State Parks: Long Hunger State Park website for more up-to-date information.

Work Day at Sellars Farm
Posted: 1 week, 3 days ago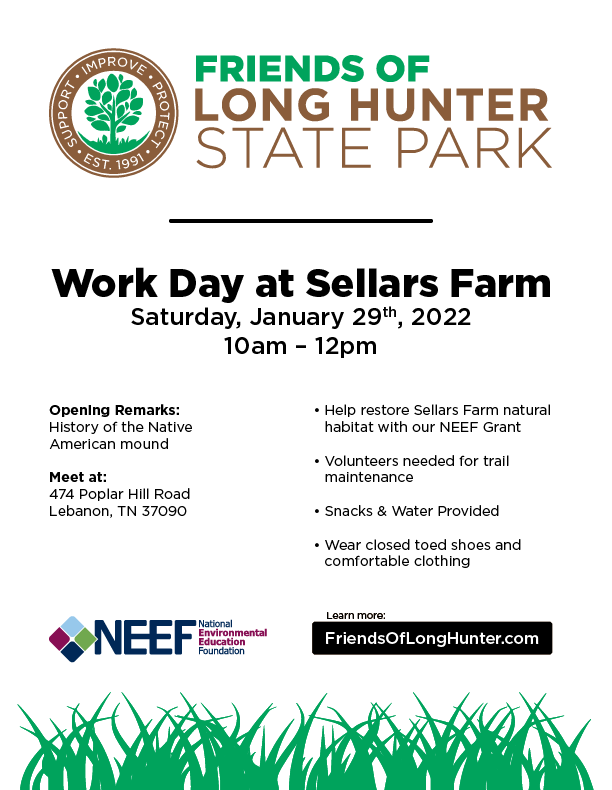 Upcoming Events
We offer many events throughout the year. We also have a Full Event Calendar. The following is a short list of upcoming events:
Work Day at Sellars Farm
Saturday, January 29 at 10:00am
Help restore Sellars Farm natural habitat with our NEEF Grant
Volunteers needed for trail maintenance
Snacks & Water Provided
Wear closed toed shoes and comfortable clothing
Opening Remarks:
History of the Native American mound

Meet at:
474 Poplar Hill Road
Lebanon, TN 37090
Friends of Long Hunter Monthly Meeting
Saturday, February 5 at 10:00am
Join the Friends of Long Hunter State Park group as they discuss park activities and plan for the future. This is your chance to become involved, make new friends, and be a part of all the exciting things happening at the park! The meetings are open to everyone. Meet inside the park office meeting room.
Location: Long Hunter State Park, 2910 Hobson Pike, Hermitage, TN 37076,
Sponsors
A lot of support we receive comes from not only members within the Friends group, but also sponsors of local businesses throughout the community who have a love for Long Hunter State Park. If you are interested in sponsoring us, please visit our sponsor page.
The following companies have sponsored the Friends of Long Hunter State Park:
Gemini Production Group, Inc. is an award-winning Nashville video production company. They craft impactful videos for large and small businesses, agencies and brands for over 20 years.
Mailing List
Donate
Help the Friends of Long Hunter stay active!


Amazon will donate 0.5% of the price of your eligible AmazonSmile purchases to the park. Use this AmazonSmile link when ordering.
Facebook